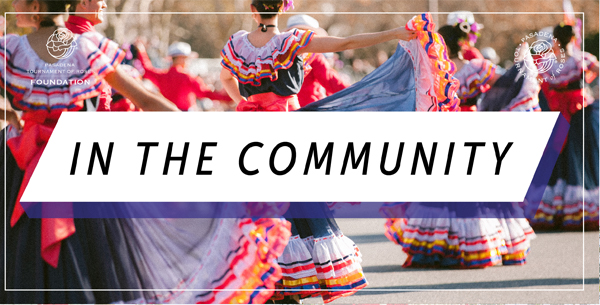 College Football Playoff Foundation
Big Day for Teachers
---
In partnership with the College Football Playoff Foundation, the Pasadena Tournament of Roses celebrated the Big Day for Teachers by honoring Pasadena McKinley School first grade teacher Cynthia Macias with a $1,000 Donors Choose gift card toward student resources. As part of the CFP Foundation Extra Yard for Teachers initiative, the Big Day was a national day of supporting and celebrating teachers to say "thank you" to educators coast to coast. Ms. Macias will use the Donors Choose gift card toward a "One Love, One Heart" project which will help build her students' social and emotional skills.
Tag A Teacher
---
In continued support of the College Football Playoff Foundation Extra Yard for Teachers program, the Tag a Teacher social promotion will gift $500 Donors Choose gift cards to educators each week this fall. Teachers that have been nominated or "tagged" in the Rose Bowl Game Tag a Teacher social posts will be randomly selected to win a Donors Choose gift card that can be used toward student support tools and classroom essentials.
Dia de los Muertos Art Contest
---
A tradition in Mexico that goes back more than 3,000 years, Dia de los Muertos is an annual holiday that is now celebrated around the world. A celebration of life and death, the holiday spans two-days, during which it is believed that the spirit world and the real world become one, even if only for a moment. When it comes to traditions, festivities, and flowers — we get the appeal! As an organization that's all about a rose, the Pasadena Tournament of Roses can appreciate that the marigold holds such a prestigious place in this celebration.
To enter, you must be between the ages of 5 and 18. Your masterpiece can take any shape or form, as long as it celebrates, reflects and honors the traditions of Dia de los Muertos. Deadline to enter is October 28, 2020.
Here are a few ideas of what you can do:
Construct an ofrenda (alter)
Create an art piece featuring marigolds or monarch butterflies
Make a traditional Dia de los Muertos costume
Paint a face with traditional Dia de los Muertos makeup
Build a visual art presentation
Create a floral arrangement
Make and decorate a Sugar Skull
Write a literary calavera
How to submit:
Create your masterpiece
Capture still images and video that represent your work
Write a brief description of your submission
Email your submission to marketing@tournamentofroses.com
Include your name, school & grade and your contact information
For more information, visit tournamentofroses.com/about/diadelosmuertos/
Pasadena Tournament of Roses Supports Ability First
---
Headquartered in Pasadena, AbilityFirst is a 501(c)(3) nonprofit that provides programs and services to help children and adults with disabilities reach their full potential.
On Sunday, September 13, AbilityFirst held their annual Festival of Fall, one of Pasadena's premier food and drink events to raised funds in support of programs and services to help children and adults with disabilities.
The Tournament of Roses was pleased to support the event, which was held virtually this year on YouTube and Facebook. Additionally, Tournament members volunteered to deliver the food and drinks to the homes of event supporters in Pasadena and across Los Angeles County.
Table hosts and their guests (check out some photos here!) enjoyed gourmet cuisine prepared by top restaurants including Lawry's the Prime Rib, Gale's Restaurant and featuring celebrity Chef Michael Hung of Downtown Los Angeles' Faith & Flower, paired with a signature cocktail from The Raymond/1886.
VIP ticket purchasers had fun making their DIY pizzas from Blaze Pizza, paired with refreshing beer from Golden Road Brewery — all while raising much-needed funds for programs supporting children and adults with developmental disabilities!
Altogether, the event brought in $115,000 in donations that will go directly to help people with disabilities. If you missed the show, don't worry! You can watch it anytime, right here.

"Contributions from this year's Festival of Fall Comes To You will positively impact the lives of more than 2,000 children and adults with disabilities and their families," shared AbilityFirst CEO Lori Gangemi. "We could not do this work helping individuals to build independent living and social skills and achieve their personal best, without the generosity of many donors, sponsors and volunteers including the Tournament of Roses."

Special thanks to Tournament members Casey Jagusch, Alan Dugan, Teverly Lazenby and Mike Crowley for volunteering their time in support of such a wonderful cause. To learn more about AbilityFirst, visit their website at www.AbilityFirst.org.
Foundation Grant Recipient:
YWCA Pasadena-Foothill Valley
---
The YWCA Pasadena-Foothill Valley is dedicated to eliminating racism, empowering women, and promoting peace, justice, freedom and dignity for all. Over the summer this Pasadena Tournament of Roses Foundation Grant Recipient partnered with the YWCA Glendale to host Camp Rosie virtual summer camp. Young women attended workshops surrounding the topics of mindfulness, self-care, exercise, art, self-expression and other various STEAM fields. In addition, participants were encouraged to plan for the future through virtual college tours, Know Your Rights workshops and business planning classes with Pasadena Federal Credit Union.
Currently, the YWCA Pasadena-Foothill Valley is providing Girls Circle, an after-school once a week session over Google Hangouts. This empowerment program integrates relational theory, resilience practices, and skills training in a specific format designed to increase positive connection and personal and collective strengths in girls.
"When they have the knowledge and skills to recognize their power and use it to help and empower others, it makes me proud to know that I was a part of that." says Cynthia Martinez, Operations and Marketing Manager at YWCA Pasadena-Foothill Valley. "When they recognize that they have a place in higher education despite no one in their family ever attending college or university, I feel proud to know that they got that feeling from our program. When they feel more at peace and heard because they were able to express themselves in our girl's circle workshops or through their art or writing projects, I feel proud that we were able to bring them that assurance."
To learn more about the impact the YWCA Pasadena-Foothill Valley is making on their community, visit www.ywca-pasadena.org.
Foundation Grant Recipient:
Pasadena Audubon Society
---
Pasadena Audubon's Bird Science Program is an enrichment program for Pasadena Unified School District elementary schools. The program has two components; classroom lessons and a half-day field trip. The intent is to introduce children to the wonders of birds and the importance of conservation. Because of the pandemic and the "Safer At Home" order, the program has been modified to accommodate safety guidelines by creating videos for the classroom portion, and providing hand lenses to all participating students to replace the half-day field trip portion. A hand lens is a simple but powerful tool of discovery and since kids are now spending many hours on screens, any opportunity to spend some time outdoors is a plus.
The library of video lessons being created allows the Audubon Society to expand their program to include many more schools, in addition to, home-school families and the general public. The funding received from the Pasadena Tournament of Roses Foundation has allowed this organization to continue partnering with schools within the community.
"Birds connect me to the magic of nature and this is something I want children to experience. I also want them to understand that we share this earth with a myriad of creatures and as the dominant species, it is incumbent upon us to protect the natural spaces that remain." Says Lois Brunet, Pasadena Audubon Program Director. "Birds are a fantastic conduit to conservation and my hope is that as these kids learn to love our birds, they'll understand that we all have a role to play in their protection and the protection of the natural resources they depend on."
To view more on the Pasadena Audubon's Bird Science Program, click the picture above!
This email was sent by Pasadena Tournament of Roses Association from 391 South Orange Grove Boulevard, Pasadena, California, 91184, United States.